Manufacturing
The execution of industrial 4.0 smart factory and factory automation is becoming an increasing pursue by the manufacturing sector to increase efficiency and drive cost-down. RuggON's ruggedized tablets plays a key role as a mobile managing, monitoring, and control center, offering flexibility to the workforce to get their jobs done more effectively. The robust features such as wide temperature range, IP65 water & dust proof and drop, shock, vibration resistance allow personnel to work under any harsh environment that a production plant has to offer without having to worry about downtime. What better way to protect your investment while improving productivity at the same time?
Eliminate Downtime for Food Manufacturing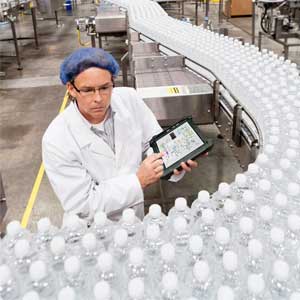 The food manufacturing industry reflects the often-extreme working environments. Moving among highly variable temperatures from freezers to ovens, from refrigeration areas to hot food areas where only a wide temperature range ruggedized tablet like RuggON would be able to withstand the quick changing environment. The IP65 water & dust proof, and fanless design can eliminate downtime working in high humidity and dusty environment. Drop, shock and vibration resistance can tolerates any machine, equipment, warehouse vehicle or human abuses. RuggON's ruggedized tablets are ready to go to work anywhere, anytime, all the time.
Working Around The Clock for Auto Manufacturing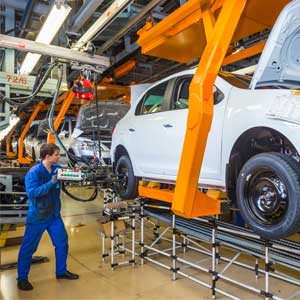 Working in the fast changing, high quality demand automotive manufacturing industry, means you're most likely running a 24/7 shift where real-time data access & data sharing capabilities are required across the board by production managers, operators or inspectors alike. RuggON tablets are equipped with powerful & uninterrupted wireless communication capabilities to get the job done fast and accurately. Hot-swappable and high-capacity batteries makes it possible to stay online 24/7. Don't forget to take advantage of our IP65 water & dust proof, drop, shock and vibration resistance docking stations. Securely dock RuggON's rugged tablets to your work carts and start working along & around the production lines today.
Need more information regarding our products or distribution?
---